FireDETEC Automatic Fire Suppression Systems for Electrical Equipment
Affordable FM-200 and NOVEC 1230 Systems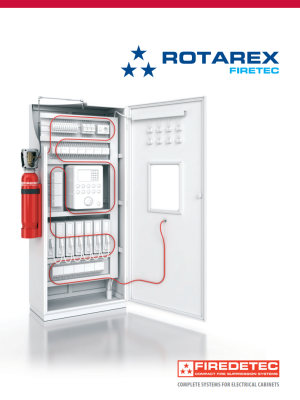 FireDETEC automatic fire suppression systems protect electrical equipment from the inside — closer to sensitive electronic circuitry where a fire can start. FireDETEC's pneumatic detection tube is installed directly inside electrical cabinets or critical equipment, so a fire can be quickly detected and suppressed before serious damage can occur. FireDETEC mitigates even the most critical electrical fire risks, such as combustion from short circuits, overloading or overheating.
Suppresses a fire before a sprinkler system discharges
Easily affordable
Reduces risk of losses due to extensive fire damage to equipment and work stoppage
Clean agent systems are available with 3lb, 7lb and 14lb cylinders.
DOWNLOAD THE FIREDETEC ELECTRICAL EQUIPMENT BROCHURE
*Rotarex guarantees the privacy of your personal information. It will not be shared with any third party. Upon submission you agree that Rotarex can contact you by email to fulfill your request and provide relevant information.