A COMPLETE FIRE SUPPRESSION SYSTEM FOR VEHICLE ENGINES
A COMPLETE PRE-ENGINEERED SYSTEM
Designed to protect Vehicle Engines from fire
Everything you need together in one box
FULLY AUTOMATIC
Automatically detects and suppresses fire
No electricity required
UNECE R107 and RISE APPROVED
Tested and Certified according to UNECE R107 Standards for passenger bus engines
ULTRA-COMPACT
The most compact system to win the UNECE certification
Protects engine cavities of 4m3 with just 4L of agent
Choose Your Detection System
Electronic Detection Linear Heat Detection (LHD)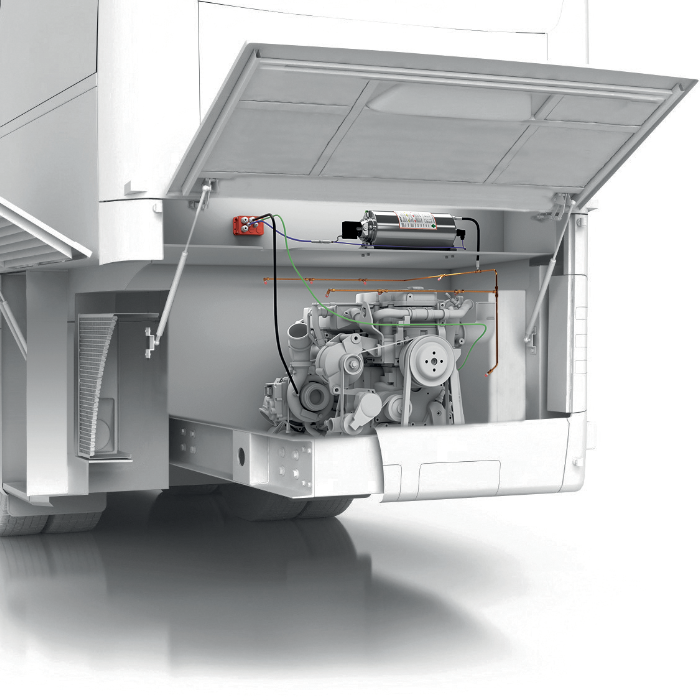 Learn more
Pneumatic Detection
Learn more
Agent
Fluorine free liquid-based agent (water) with glycol-free antifreeze
Low freezing point
Ideal for engine fires – rapidly removes heat and prevents reignition
A Choice of Compact Line Cylinder Sizes
Only one cylinder to install
Operates in any position (horizontally, vertically, upside-down)
Patented Dual-Chamber Cylinder Tehchnology
Dual-chamber = Extinguishing liquid and pressurized gas are in separate chambers
When activated, the pressurized gas is released into the outer chamber forcing against a piston
The piston pushes the liquid out through the discharge line
A built-in pressure regulator ensures a constant and sustained discharge
Robust design to withstand vibrations
Superior safety and leak prevention
Certification
For safety, extinguishing liquid and pressurized gas are inseparate chambers
When activated, the pressurized gas is released into the outer chamber forcing against a piston
The piston pushes the liquid out through the discharge tube
A built-in pressure regulator ensures a constant and sustained discharge to avoid usage of chemicals
Electronic detection
FM-approved Linear Heat Detection Wire (LHD-Wire) that withstands extremely high engine compartment temperatures
Close to zero limitation in detection length
10 years product life-time
High actuation temperature to withstand very hot and narrow engine compartments (180°C)
Easy to install: fast installation due to wireless communication between the display and the electronic control unit (ECU)
Low maintenance = Less life cycle costs & less downtime
Optional: Wireless Communication
Pneumatic detection
Proprietary continuous linear FireDETEC sensor tube
Reliably detects and actuates the release of the extinguishing agent using pneumatic technology
Exceptionally durable with 5 + year service lifetime
Low permeability, is UV and Chemical resistant and can withstand high cycle temperature
Works completely autonomous without an external power source
The Firedetec Difference
Rotarex FireDETEC® systems use a proprietary continuous linear sensor tube that reliably detects and actuates release of the extinguishing agent using pneumatic technology. It is more flexible, space efficient and cost effective versus alternative mechanical or electronic systems.
1. Quick & Easy installation directly inside electrical cabinets:
The flexible sensor tubing is easily installed directly above and around the engine - closer to where a fire could start. When in service, the tubing is pressurized with dry nitrogen to 16 bar. The dynamics of pressurization make the tubing more reactive to heat.
2. Early fire detection:
If a fire occurs, the heat of the fire causes the pressurized sensor tube to burst at the hottest spot (approx. 110°C)

3. Instant suppression:
The sudden tube depressurization actuates the special pressure differential valve and instantly floods the entire engine compartment extinguishing agent. The fire is quickly suppressed just moments after it began... minimizing damage and downtime.
Connect with an Expert
Custom solutions • Technical advice • References